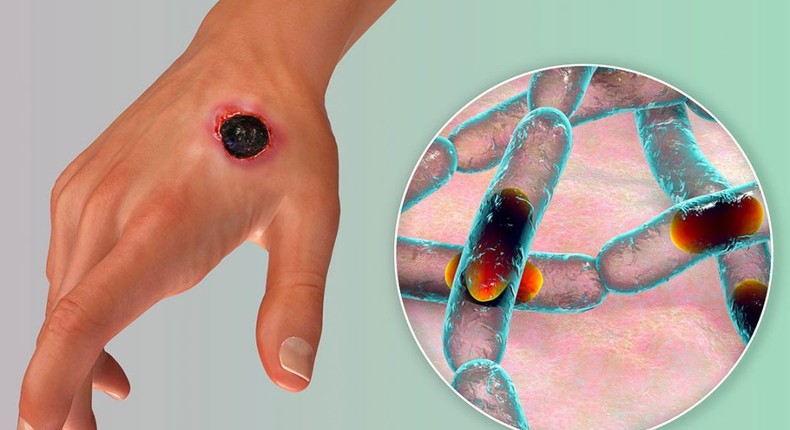 There's been an outbreak of Anthrax, a potentially fatal disease in Nigeria.
The
Federal Government
has confirmed the first case of anthrax in the country, stating that the disease was detected in a farm in Niger State.
Announcing the outbreak of the disease, the Federal Ministry of Agriculture and Rural Development in a statement on Monday, July 17, 2023, said the Office of the Chief Veterinary Officer of Nigeria had on Friday, July 14, 2023, been notified of animals manifesting symptoms of a suspected case of anthrax in a farm in Suleja, Niger State.
"The case was in a multi-specie animal farm comprising of cattle, sheep and goats located at Gajiri, along Abuja-Kaduna expressway Suleja LGA Niger State, where some of the animals had symptoms including oozing of blood from their body openings — anus, nose, eyes and ears," the ministry said.
Subsequent laboratory tests by the National Veterinary Research Institute laboratory confirmed that there's been an outbreak of anthrax in Nigeria.
What is Anthrax?
Anthrax is a serious infectious disease caused by gram-positive, rod-shaped bacteria known as Bacillus anthracis.
It is a serious bacterial illness caused by a spore-forming bacterium that mainly affects animals. But humans can become infected through contact with an infected animal or by inhaling spores.
According to the Director-General/CEO of the National Biosafety Management Agency (NBMA), Dr Agnes Yemisi Asagbra, "If anthrax is not identified and treated promptly, it can cause pneumonia, serious lung issues, breathing difficulties, shock, and death. Symptoms of anthrax include flu-like symptoms like coughing, fever, and muscular aches."
How animals get infected with anthrax
Domestic animals like pigs, goats, cattle and sheep can become infected when they breathe in or ingest spores in contaminated soil, plants, or water.
How people get infected with Anthrax
As a zoonotic disease caused by germs that may spread from animals to humans. People can contract the disease when anthrax spores get inside their bodies.
When the spores in the body become activated, the bacteria can multiply, spread out in the body, produce toxins, and cause severe illness.
Types of Anthrax
There are four types of anthrax:
Cutaneous anthrax affects the skin.
Inhalation anthrax affects the lungs.
Gastrointestinal anthrax affects the digestive system
Injection anthrax affects the skin or other parts of the body.
Symptoms
Symptoms of anthrax are different, depending on the type of exposure. The symptoms could take one day to two months to manifest.
Cutaneous anthrax symptoms
A group of small blisters or bumps that may itch; swelling can occur around the sore; a painless skin sore (ulcer) with a black centre that appears after the small blisters or bumps; most often, the sore will be on the face, neck, arms, or hand
Gastrointestinal anthrax symptoms
For gastrointestinal anthrax, the first symptoms are usually nausea, loss of appetite, bloody diarrhoea, and fever and chills, followed by severe stomach pains.
Other symptoms include chest discomfort, shortness of breath, confusion or dizziness, cough, nausea, vomiting, headache, sweats (often drenching), extreme tiredness, body aches, swelling of neck or neck glands, sore throat, painful swallowing, hoarseness, diarrhoea, flushing (red face) and red eyes, fainting.
Inhalation anthrax symptoms include:
Fever and chills, chest discomfort, shortness of breath, confusion or dizziness, cough, nausea, vomiting, or stomach pains, headache, sweats (often drenching), extreme tiredness and body aches.
Injection anthrax symptoms include:
Fever and chills, a group of small blisters or bumps that may itch, appearing where the drug was injected; painless skin sore with a black center that appears after the blisters or bumps; swelling around the sore; abscesses deep under the skin or in the muscle where the drug was injected.
It is very important to note that all types of anthrax, if untreated and allowed to spread out in the body can cause severe illness and even death.
Treatment
Anthrax can be treated with antibiotics and antitoxin drugs. But patients with serious cases of the disease may require aggressive treatment and need to be hospitalized.